Two Candidates: Spencer Deveraux, P.Eng. & Tammy Lamey, P.Eng.
Spencer Deveraux, P.Eng.
Over the past two years, Spencer acknowledges that he has had the privilege of serving on the APEGNB Council as the Fredericton Councillor, and he is pleased to re-offer for another two-year term. Some of the various positions I have held include: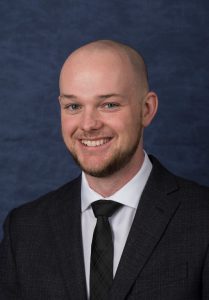 Fredericton Councillor, APEGNB
Member of the Climate Change Committee
Former Member of Northeastern Branch and Current Member of Fredericton Branch
Various events on behalf of APEGNB
He has a bachelor's degree in Mechanical Engineering – Mechatronics ('13) and a diploma in Technology, Management, and Entrepreneurship (TME) from the University of New Brunswick. He also holds numerous certifications in Energy Management.
After graduating, he worked as a Process Engineer at the Brunswick Smelter before moving to his current role at NB Power. He is the Program Lead for the Industrial Energy Efficiency Program where his focus is helping New Brunswick Industry remain competitive, sustainable, and to reduce their environmental impact. He believes the Association and its members will play a crucial role in helping to overcome these challenges.
He is a firm believer in giving back to the profession and the community in which we live. Outside of engineering, he volunteers for coaching various sports, science fairs, and any opportunities for mentoring students or young professionals. He believes we have an important role to play as advocates for the professions, not just regulators.
Tammy Lamey, P.Eng.
Tammy is pleased to offer her candidacy for Fredericton Councillor with the APEGNB Provincial Council. Since 2006, she has been actively involved with the Fredericton Branch and has held various executive positions, including Chair in 2010. During her time on Branch, she acknowledges she is most proud of her involvement with the APEGNB Haunted Tours at the Charlotte Street Arts Centre and at Science East, and the Family Fun Day held each summer at the Bucket Club.
At a provincial level, she has served as Fredericton Councillor and served on the Nominating Committee. Currently, she is very excited to part of the 2020 Committee, helping to plan next spring's celebration of 100-years of Engineering as a regulated profession in New Brunswick.
"It would be an honour to represent the interests of our Fredericton-area members," stated Tammy. "I would strive to keep our members current on provincial and regulatory matters. I would continue my efforts to provide support and communicate all issues directly impacting Fredericton members to the Branch Council regularly."
Membership engagement has always been important to Tammy and she will continue to encourage members to get involved in association activities, at both provincial and branch levels. Our committees and branch activities are vital to our success as an association.
2018-2020 APEGNB 2020 Committee
2008-2019 Haunted Tour Committee, APEGNB Fredericton Branch
2012-2015 APEGNB Councillor, Fredericton
2011 APEGNB Nominating Committee
2011 Past Chair, APEGNB Fredericton Branch
2010 Chair, APEGNB Fredericton Branch
2009 Vice-chair, APEGNB Fredericton Branch
2008 Secretary, APEGNB Fredericton Branch
2007 Secretary, APEGNB Fredericton Branch