APEGNB
STEM Teacher Awards
Almost all of us have had a teacher who leaves his or her mark on our hearts and minds as an important influence. The lessons these educators leave with us often goes far beyond the topics associated with their subjects taught.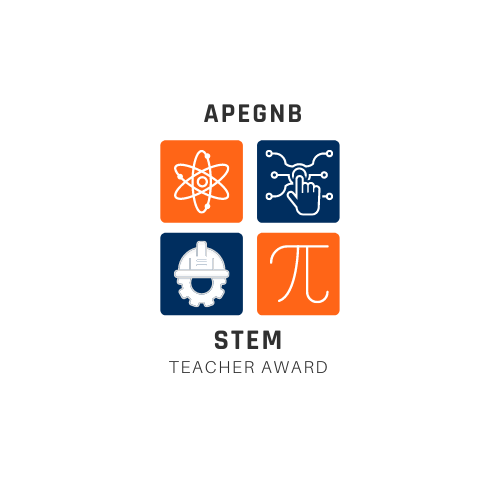 We would like to recognize a few of these remarkable middle and high school teachers who have influenced the lives of New Brunswick's students and made STEM learning fun!
Six awards are available each year to educators in grades 6-12. Each recipient will receive a commemorative certificate as well as $2,000 to be used at their discretion for professional development, school equipment, resource materials, website development, teaching aids, or other tools to improve teaching and student learning.
CRITERIA FOR THE AWARD
Demonstrates innovative teaching that promotes engineering and/or geoscience.
Encourages curiosity and generates excitement in STEM education by engaging students in hands on interactive activities.
Organizes STEM activities outside of the classroom.
Demonstrates leadership among peers by serving as a model of how educators can work with industry to enrich STEM education.
Increases the understanding of the diverse careers available in engineering and geoscience; helps to dispel stereotypes; and encourages under-represented groups to consider careers in engineering or geoscience.
Uses social media platforms (e.g., Twitter, Facebook, Instagram) to promote STEM projects and learning.
If you think you know an educator who is deserving of this award, nominate them today!
The deadline for annual nominations is March 18.
Your completed nomination package can be sent via:
Mail: 183 Hanwell Road, Fredericton, N.B. E3B 2R2
Attn: STEM Teacher Awards
OR
E-mail: stem@apegnb.com