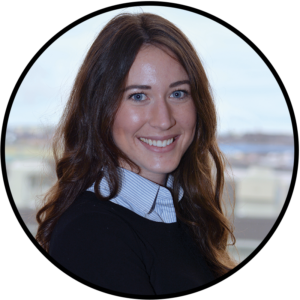 Lindsay graduated from Dalhousie University in 2013 with a B.Eng. – Environmental Engineering. After graduating she began working at CBCL Limited and has advanced to the position of Group Lead, Water Resources and Climate Change.
She has developed skills in all aspects of hydrologic and hydraulic analysis, including riverine flood plain mapping and flood mitigation; sanitary sewer and stormwater analysis and design; inflow and infiltration (I&I) reduction studies; and combined sewer overflow (CSO) reduction strategies. Lindsay also works with municipalities on climate change risk and vulnerability assessment as well as adaptation planning.
Over the past couple of years, Lindsay has presented in the following technical forums:
2019 Canadian Water and Wastewater Association (CWWA) National Conference in Banff, AB;
2019 ACWWA Annual Conference in Sydney, NS;
2019 Canadian Water Resources Association (CWRA) Online Course;
2019 Developed and hosted and education webinar for multiple municipalities through the AIM Network on climate change consideration;
2018 Atlantic Canada Asset Management Conference in Moncton, NB;
2018 Panelist and Presenter at a technical conference, jointly hosted by Natural Resources Canada & Environment and Climate Change Canada, on updates to new national flood plain mapping guideline series; and
At CBCL, Lindsay was chosen to participate in the first Professional Development Program.
In addition to her work, she currently sits on the following Boards and Committees:
Natural Resources Canada: National committee for the inclusion of climate change in flood plain mapping;
Atlantic Canada Water and Wastewater Association (ACWWA): Lindsay is the current Communications Director. In the past she was the chair of the magazine committee. In 2015, she won the YP award for the Association;
Canadian Water and Wastewater Association (CWWA): She sits on the national committee on climate change;
Association of Consulting Engineers NB (ACEC-NB): Lindsay is the Chair of the Diversity and Inclusion in Consulting committee; and
APEGNB: She has been a member of the Diversity and Inclusion Committee since 2016.
---
Young Professional Achievement Award: Given to a young outstanding professional engineer/geoscientist who has carried out major engineering/geoscience achievements in or on behalf
of New Brunswick. The Award recognizes exceptional technical achievements in his/her chosen fields. Consideration is given to the nominee's engineering/geoscience excellence within the professions, business or industry, or education sector.