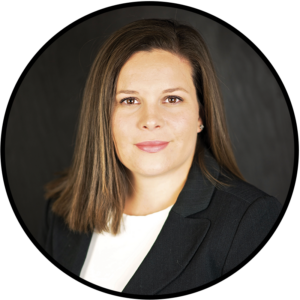 Maggie graduated from civil engineering from the University of New Brunswick in 2007. Since that time, she has worked in a variety of roles in the areas of consulting, government and private sector. Maggie obtained an accreditation from the CISC in 2014. She is currently one of 15 people in Canada with the "Steel Connections Designer in Conventional Construction" accreditation. Although eminently qualified in connection design, she has since left the industry to pursue her true passion of helping people and accepted a position working with the North Shore Mi'kmaq District Council.
She is a dedicated volunteer and role model which can be evidenced through the following:
Mentoring newly graduated female engineers. They correspond through email and LinkedIn and she has encouraged and helped them get more involved with the Association. In addition, she has helped them as job seekers by reviewing their resumes and helping them network with local businesses;
Working member of APEGNB 2020 Celebration committee in charge of STEM Initiative. This initiative will encourage students, province-wide, to pursue STEM-related initiatives;
Presented 'Working with Indigenous Communities' at Engineers Nova Scotia AGM (2018);
Presented 'Working with Indigenous Communities' at APEGNB's AGM (2019);
Attended Assembly of First Nation conferences to understand Housing and Infrastructure issues on a national level (2017-2019);
Attended CCWESTT conference to gather information and ideas to be applied at APEGNB (2018);
Panelist for Diversity & Inclusion Women in Engineering night (2017);
Diversity & Inclusion Professional Development Chair (2019);
Diversity & Inclusion Vice-Chair (2018 & 2019);
Scored the Jocelyne Roy Vienneau Scholarship applicants (2016 to 2018);
Diversity & Inclusion Committee Member 2017;
Councillor for Northeast District – 2016-2017 (2 year term);
Co-wrote the successful proposal to hire Diversity & Inclusion staff member at APEGNB. It was noted at CCWESTT that APEGNB was falling behind in the Engineers Canada 30 by 30 goal;
Participation in the Northeast Branch of APEGNB:

Northumberland County Rep (2012, 2013 – 2 Years);
Secretary (2014, 2015, 2016 – 3 Years);
Treasurer (2017, 2018, 2019 – 3 Years);
Distributed the APEGNB Northeast Branch Bursary forms and scored applicants (2013-2018);

Local volunteer work:

ALS Society Miramichi Coordinator – responsible for organizing 5 Walk Strong Events (Annual Fundraiser 2014 to 2018);
Big Brothers Big Sisters – Big Sister 2013 to 2016;
Volunteered in NB pilot program from high school students entering engineering (2019);
APEGNB Pumpkin Fling Volunteer – 2013 to 2019; and
Volunteer Judge ASD-N STEM Fair (2015-2016).
---
Women in Engineering: Presented to an outstanding engineer who, in the opinion of the Association, through their engineering and career achievements, has demonstrated noteworthy support for women in engineering and has established a benchmark of engineering excellence. Consideration is given to leadership in engineering, business or industry, the education sector, provincially or nationally, and recognition as a role model for women entering or in the practice of engineering.