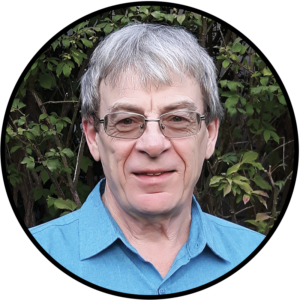 Reginald (Reg)is native of Miramichi, New Brunswick and a 1973 BSc (Geology) graduate of the University of New Brunswick. After several years working in the private sector, engaged in planning and implementing mineral exploration projects, he joined the New Brunswick Geological Surveys Branch in 1986.
While with the New Brunswick government, he carried out regional bedrock mapping over a large area of northern New Brunswick. The resulting geological maps – including an updated Geological Map of Northern New Brunswick – and reports have provided valuable contributions to mineral exploration efforts, leading to discovery of the Sewell Brook base-metal deposit, as well as new insights and interpretations of the tectonic evolution of the northern Appalachians.
Among his reports are numerous papers authored or co-authored for publication in peer-reviewed scientific journals. He has delivered about 50 oral presentations and led numerous field trips at professional geological conferences. Before retirement in 2017, he capped off his career with the production of a comprehensive memoir "The Middle Paleozoic Rocks of Northern and Western New Brunswick", which synthesized many years of field mapping and acquisition of diverse geoscience data from these areas.
Between 1992 and 1999, he worked to gain professional recognition for geoscientists in New Brunswick. As president of the Association of Professional Geologists of New Brunswick, he spearheaded negotiations with APENB and participated in drafting amendments to the Engineering Profession Act, leading to the inclusion of geoscientists under that Act in late 1999.
Reg has been very active with professional associations, including the Geological Association of Canada, the Atlantic Geoscience Society, and the Association of Professional Engineers and Geoscientists of New Brunswick and specifically he:
Was the New Brunswick representative on a national committee that evolved into the Canadian Council of Professional Geoscientists from 1994-1997;
Served on APEGNB's Legislation and Professional Conduct committees from 2000-2016;
Received the Association's Service to the Profession Award in 2008 and has since been recognized as a Fellow of Geoscientists Canada and Honorary Fellow of Engineers Canada;
Served on the Atlantic Geoscience Society (AGS) Council for approximately 10 years, and was President in 2003-04;
Was a contributing author of The Last Billion Years: A Geological History of the Maritime Provinces of Canada – a book published by the AGS in 2001;
Was a Councillor with the Geological Association of Canada (GAC) from 2004-2007 and chair of GAC's Communications and Awards committees;
Was Editor-in-Chief of Geoscience Canada, GAC's flagship publication from 2008- 2012 and continued his involvement as a copyeditor for Geoscience Canada until 2016. In mid-2019 he agreed to serve as GAC's in-house editor of books published by the Association;
Received the AGS Distinguished Service Award in 2008;
Was presented with GAC's Distinguished Service Award in 2010; and
Reg was presented with the W.J. Wright Award for distinguished contributions to the mineral industry of New Brunswick by the New Brunswick Branch of the Canadian Institute of Mining, Metallurgy and Petroleum in 2015, and in 2018 he was awarded the Gesner Medal, the AGS Distinguished Scientist Award.
---
L.W. Bailey Award: Given in recognition of outstanding service or contribution to both the geoscience profession and the province of New Brunswick. Named in honour of Loring W. Bailey, an energetic and productive geologist whose scientific work spanned the 19th and 20th centuries and who became one of the most popular professors in the history of Kings College (NB). The L.W. Bailey Award is the most prestigious award a professional geoscientist can receive from the Association.