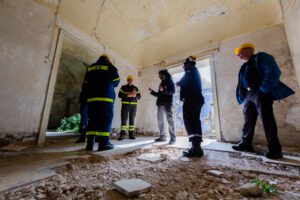 MEMBERS-IN-TRAINING
Competency-Based Assessment (CBA)
Prior to being granted a licence, an APEGNB applicant must demonstrate their ability to practice engineering or geoscience.
The applicant must provide evidence that they possess, through experience, a satisfactory capability to practice at a professional level. APEGNB has adopted the Competency-Based Assessment to allow applicants to demonstrate their work experience. The Competency-Based Assessment (CBA) allows for a more transparent method of submission.
Competencies are observable and measurable skills, knowledge, abilities, motivations or traits required for professional registration that are demonstrated through the actions and behaviours of the applicant. The Competency-Based Assessment program:
permits a more quantitative assessment of applicants;
is a more explicitly described and defined measurement tool to assess readiness for licensure;
makes the assessment more objective, transparent and consistent;
increases the confidence of all who participate in the process including applicants, validators, employers and assessors.
The CBA submission is done through the online portal. Ensure that you have read the CBA guidelines before beginning your work experience submission to reduce the risk of being required to re-submit. If you have any issues using the system, contact registration@apegnb.com.
FOR ENGINEERING
The competency assessment framework makes use of 7 Competency Categories, which are groupings of 34 competencies or skills:
Technical competence [10 competencies]
Communication [3 competencies]
Project and financial management [5 competencies]
Team effectiveness [2 competencies]
Professional accountability [6 competencies]
Social, economic, environmental and sustainability [5 competencies]
Personal continuing professional development (CPD) [3 competencies]
FOR GEOSCIENCE
The competency assessment framework makes use of 4 Competency Categories, which are groupings of 29 work experience competencies:
Professional Competencies [7 competencies]
Competencies in Scientific Method [5 competencies]
Competencies in Area of Geoscience [7 competencies]
Complementary Competencies [10 competencies]