Affinity Program
In accordance with the Engineering and Geoscience Professions Act of New Brunswick, only persons who are members of the Association, or licensees, or holders of certificates of authorization as provided in the Act or by-laws are able to practise the Professionals in or for application in New Brunswick. As such, registered members have access to the following:
TD Insurance Melonche Monnex Offer
As a trusted partner, the TD Insurance Meloche Monnex Program is dedicated to helping APEGNB members get access to preferred insurance rates on car, home, condo and tenant coverage. For more information or to get a quote visit www.tdinsurance.com/apegnb or call 1-866-293-9730.
---
Garrett Agencies
Term Life, Health & Dental, Disability Income, Critical Illness, and Accident Insurance
Garrett Agencies is the authorized advisor and representative for the Engineers Canada life and health insurance plans, providing professional advice and service to APEGNB members at no additional cost.
Chosen for its objective advice, expertise, and product knowledge, the agency will assist you in developing an appropriate risk management strategy for your life and health insurance needs today and into the future.
Plans offered include:
term life insurance
major accident protection
child life & accident plan
critical illness insurance
health & dental care
disability income replacement plan
For insurance planning advice plan features, benefits, premium details, or to apply, visit the Garret Agencies website or call 1.800.661.3300 (Monday to Friday, 8:30 am to 4:30 pm)
A new Professional Retiree Health and Dental Insurance Plan, sponsored by Engineers Canada and underwritten by Manulife, is available to all eligible Engineers Canada members in Canada.
If you're retiring or starting your own business, engineers Canada offers three professional retiree health and dental coverage options:
Base – acceptance is guaranteed regardless of your health status and no medical questionnaire is required upon application
Bridge – no medical questionnaire is required if you apply within 60 days of your group health plan end date
Comprehensive – offers the highest coverage maximums of the three plans in many benefit categories
About Garrett Agencies
Garrett Agencies is an independent insurance consulting firm that has supported and serviced the Engineers Canada plans for over 25 years. In addition to being the authorized advisor (Engineers Canada Plans), Garrett Agencies monitors the entire Canadian insurance marketplace and will provide analysis, and comparisons, regarding any life and/or health insurance product offerings available in Canada.
How to Redeem
1.800.661.3300
---
ENCON Group Inc
Professional Liability Insurance
500 – 1400 Blair Place
Ottawa ON K1J 9B8
Tel: 613.786.2000
Toll free HELPLINE: 1.800.267.6684
Fax: 613.786.2001
ENCON Group Inc. administers professional liability insurance programs for Canadian engineers under the direction of the Association of Consulting Engineers of Canada and the Canadian Council of Professional Engineers. The national associations' endorsement of the ENCON Program dates back to 1970 and has been the driving force which has initiated many changes to the program over the years.
The ENCON program offers Canadian engineers competitive coverage, pricing, and access through independent insurance agents and brokers across Canada. The additional features which are provided by the program include loss prevention services, contract review services, prompt claims handling directed through the head office in Ottawa and conducted by regional branches of adjusters and legal people.
The managers of the program at ENCON are responsible to the national associations in terms of reporting with respect to rate levels, coverage requirements, and other issues relating to the evolution of the program required by Canadian consultants both here in Canada and overseas.
For further information, refer to the ENCON website at the following address: http://www.encon.ca/
---
Manulife
Term Life, Health & Dental, Disability Income, Critical Illness, and Accident Insurance
Engineering professionals have counted on Manulife's Term Life and Accident Insurance program for over 60 years.
For more information about the Engineers Canada-sponsored insurance programs, call 1.877.598.2273 to get a free quote or to apply online please visit the Manulife website.
---
Great-West Life
Financial Security Program
Reach your financial goals faster
Engineers, geoscientists, students and their families have exclusive access to the program.
Why choose this program?
Lower fees can help your money grow faster and last longer in retirement.
Access to WayfinderTM – a new retirement planning experience that helps you make smart money decisions
Extensive investment choices through group RRSP, non-registered savings plan, TFSA and retirement income products.
Free personal investment guidance and support.
Program has been well-established for almost 40 years.
Change your asset mix anytime without penalty.
Enhanced interest rates on guaranteed investment accounts.
No transfer or administration fees.
Lower fees = more money for your future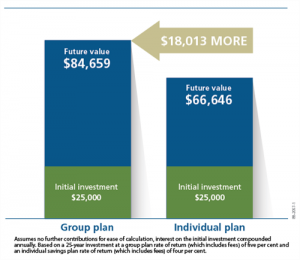 Compare for yourself – see the difference lower fees could make on your retirement savings and income.
My group advantage calculator (requires Flash)
Joining is quick and easy
How do I sign up?
Great-West Life 1-800-724-3402
News and Tips!
The Great-West Life Assurance Company, key design and marks displayed followed by the TM symbol at first-time of use are trademarks of The Great-West Life Assurance Company (Great-West Life), used under licence by London Life Insurance Company (London Life) for the promotion and marketing of insurance products. London Life is a subsidiary of Great-West Life. Group retirement and savings products described herein are issued by London Life.
---
National Secondary Professional Liability
The Secondary Professional Liability Insurance Program assists the engineering and geoscience licensing bodies in their mandate to uphold and protect the environment and the safety and interests of the public. It enhances self-regulation for both the engineering regulators and individual engineers, and enables engineers and geoscientists to seek advice in whistleblower situations. All individual engineers and geoscientists in good standing with a participating provincial or territorial regulator are insured. They are also covered as mentors helping other less-experienced individuals develop specific skills and knowledge that will enhance professional and personal growth.
---
PetSecure
Pet Health Insurance
Pet insurance allows you to make sure your pets receive the medical care they deserve, without jeopardizing your family's savings. It's as easy as taking your pet to the vet clinic and sending us a claim for your expenses. With Petsecure, you can rest easy knowing 80% of your pet
S bill will be covered in case of accident or illness. It's a simple effective way to take the financial stress away during those difficult ties. Check out our comprehensive plans, which take care of your veterinary costs for accidents, illnesses, and even dental care.
Call PetSecure at 1.800.268.1169 or visit the Engineers Canada website for details.
---
UPS
Shipping Services
Engineers Canada has partnered with UPS to offer a broad range of services for the transportation of packages and freight for engineering professionals. Visit the Engineers Canada website for more information.
---
Car Rentals
Engineers Canada has partnered with Budget and AVIS to offer preferred rates and unlimited kilometers on business and leisure travel.
Visit the Engineers Canada website for more information.